What did you do in school today?
The tidbits of information we receive from our children in response to this classic question can range from endearing, to informative, to cliff-hanging.
"I found a toad in the garden!" "I ate cherries." "I played with my new friend!" "I don't remember." 
If only we could be a fly on the wall and see for ourselves what our children do in a day at House on the Hill! Every day at school is different, in part because of the different flexible care options offered to suit families' needs, including half and full day care and options for coming two, three or five times a week. Additionally, the daily routine will be adjusted for each class level and the specifics of each centre. But no matter the day or the centre, each child spends their days in a stimulating learning environment, filled with care, fun, and openness. 
Here's a glimpse into what a typical day is like here at House on the Hill. 
Good morning! 
By 8:30 each morning the children have arrived and are mingling with their friends. Whether they walk, roll up on a scooter, ride the bus, or catch a cab, each child is greeted by the teachers and goes through a health check before entering the school.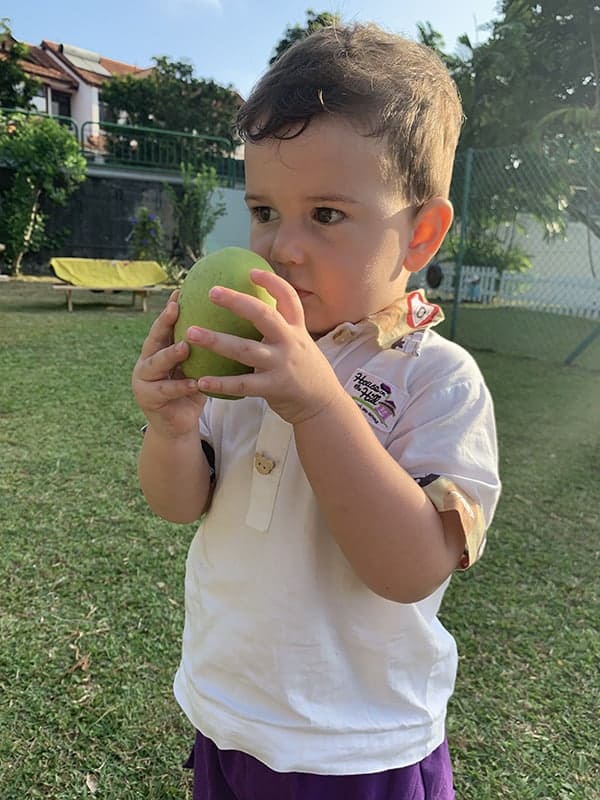 First things first, we like to move in the morning! At Pasir Panjang the children will head out into the garden to check on the herbs and pick up fallen mangoes before the sun gets too high. Over at Mount Sophia, the Playgroup class might don their bathing suits for some splashy water play! At Balmoral, children can be found outside riding striders and swinging on the playground. 
Montessori Work Time 
Every day each child has uninterrupted Montessori time. Our youngest children in the Playgroup will work for 30 minutes each day, the Pre-Nursery class will work for one hour, and the mixed age Nursery to Kindergarten classes will work for the full three hour cycle.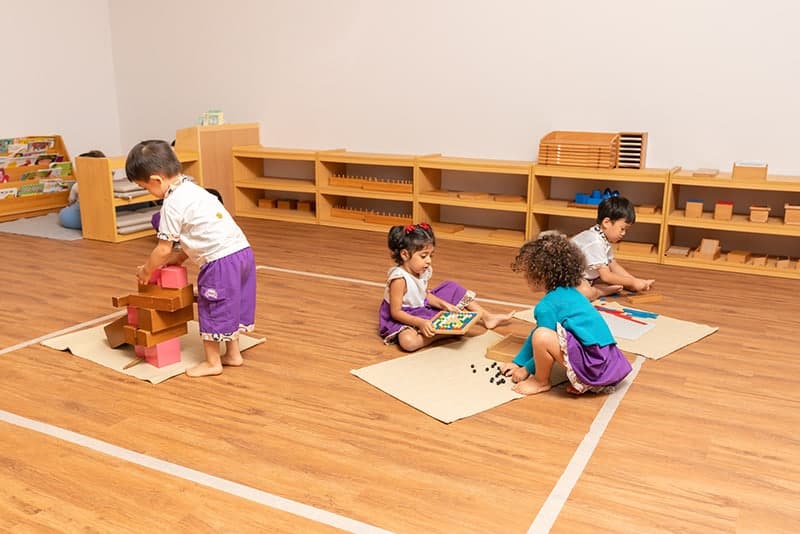 As classical music plays in the background, the children are free to move about their classrooms and choose the activities that draw their attention. The teachers will observe the children to find appropriate windows to work with them one-on-one, introducing new materials and concepts in a focused and individualized manner. Throughout this cycle you will find children working on subtraction, practicing phonic sounds with the sandpaper letters, focusing on matching the different sounds of the sound box, serving themselves snacks, or taking a quiet break in the library. They are also practicing concentration and time management skills! 
Circle Time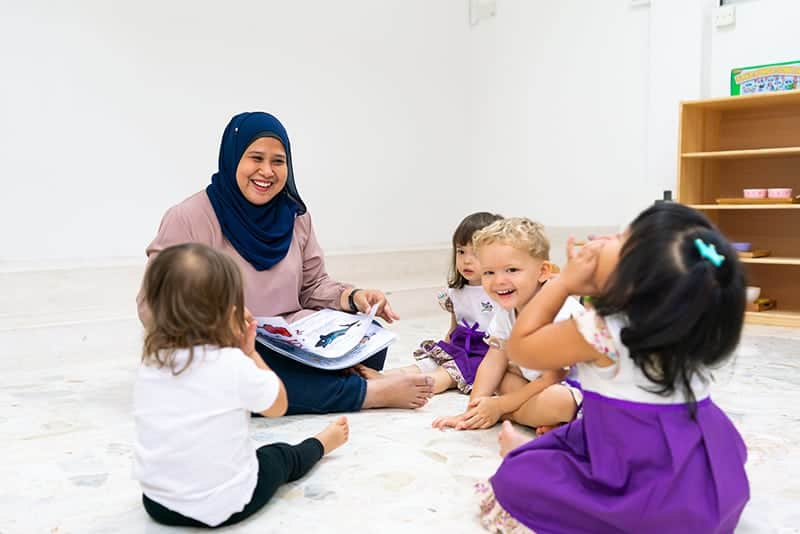 Each classroom is a community, and each day they will find the time to gather together for Circle Time. The Good Morning Song includes the days of the week and the months of the year, and it is always great to see one of the children in the Nursery to Kindergarten class leading their peers in the song! During Circle Time the class might also read stories and share stories about what happened over their weekends! They'll use this time to discuss important upcoming events and whatever may be affecting their community. 
Mandarin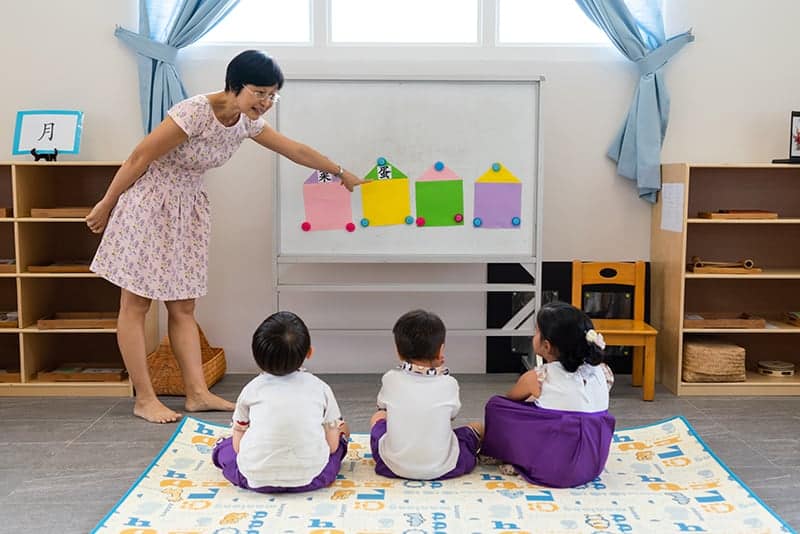 For 30 to 45 minutes each day the children will have Mandarin class. During this immersive time they are singing songs, playing games, working with their friends, reading stories, and doing crafts all in Mandarin. They are not only learning to understand the language, but they are learning to communicate and play in the language, too! Whether they speak Mandarin at home or this is their only source of exposure, the activities are engaging, educational and effective at teaching the language. 
Lunch Time
What makes for a great lunch? At House on the Hill, lunch is fantastic because we have caring aunties who prepare it fresh for us every day. Our lunch always includes healthy vegetables and whole grains, it has no added salt or sugar but is still delicious.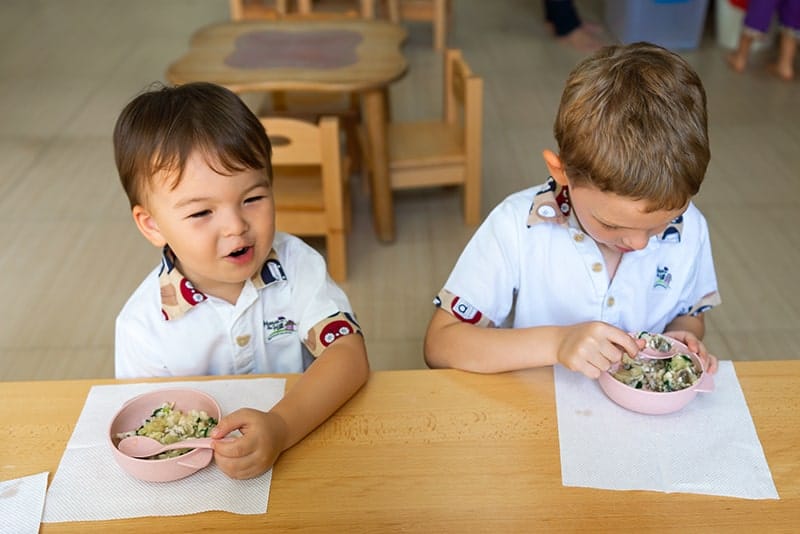 Plus we get to share it with friends! Lunch time is a special time to sit with peers and share a meal. The children develop their social and emotional skills, and put into practice those practical life skills like feeding themselves and setting the table. 
Departure 
After lunch some children will head home with parents and guardians, while others will take a shower and settle in for a nap followed by an afternoon of more activities. 
Now that you have read a day in the life at House on the Hill you can ask your child questions about their day on the way home! You are more likely to get a response with more specific questions, such as:
What songs did you sing in Mandarin class today?
What was your favorite part of the day?
Is there anything you need help with?
Did you make a new friend today? 
To see the magic of Montessori for yourselves we welcome you to visit our classrooms!