Maria Montessori created a philosophy of education that begins at birth, when infants' minds are already busy absorbing their environment and learning about the world. Montessori for infants is about how to talk and respond to our babies, how to set up a safe and stimulating environment for them, and how to nurture their natural curiosity and drive for independent exploration.
As leaders in Montessori in Singapore we set about to create an infant program steeped in Montessori principles, ready to guide parents and work with children to create a Montessori foundation from the start. We learned a lot building our nido, and we are happy to share these lessons with you (and give you a sneak peek inside)!
Wait, what is a "nido"?
Nido means nest in Maria Montessori's native Italian. Although it is commonly referred to as infant care in Singapore, we quite like the distinction of the term nido! Nido brings to mind the unique, warm, safe, and natural environment that we have created for your little ones. It is also quite fitting for our space; our nido is tucked into the spacious second storey of a landed house at our Balmoral Campus, with lots of greenery outside the windows and in the garden.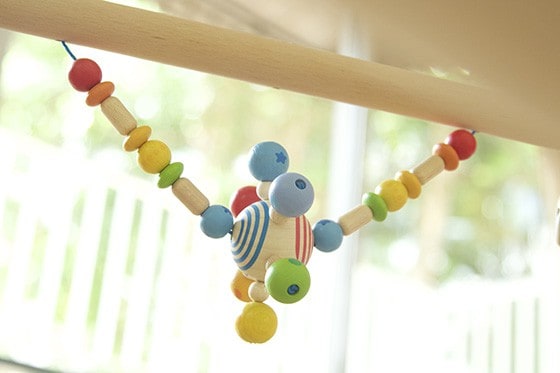 In Montessori terms, nido is the environment for children from birth to 3 years old. We begin enrolling at 2 months, and at 18 months children progress to our playgroup. Within the nido there are two groups of children: those that are crawling, scooting, and exploring the world on their feet; and those that are curious, but not yet mobile.
How did you begin?
It used to be believed that birds build their nests instinctively, but new research has shown that birds learn to build nests from experience, not instinct. When we decided to create our nest, or nido, we knew that we would also draw upon the wisdom and experience of others in order to create the perfect nurturing environment for infants ages 2 to 18 months.
We began, as always, with Maria Montessori. From her teachings we established and incorporated the core tenets of the nido, covering everything from the philosophy of food to the physical space. We worked with our experienced infant educarers and Montessori teachers to design the daily routines and educational activities. We spoke with parents about their concerns regarding the menu, communication with teachers, and parent involvement. We arranged, rearranged, added, and subtracted until we were sure that the environment was dynamic, engaging, serene, safe, and inviting for infants.
What makes Montessori Nido different from other infant cares?
There are few elements that set us apart from other infant cares.
The first difference is environment and set-up. At this vulnerable age the child should not be overwhelmed with flashy objects and bright lights, but rather they should be appropriately stimulated with simple, elegant and natural materials that are appealing to them. You'll notice that our classrooms are calm and inviting, they feel like home to the baby. All of the materials are hand selected for the child's development; from mobiles to manipulatives each piece is educational and thoughtful.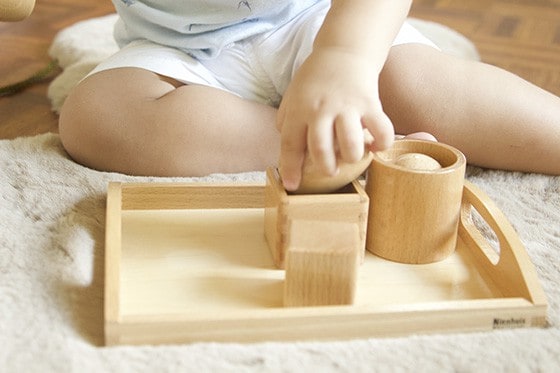 The set-up of each room also encourages movement. We know how important it is for your child to be able to wiggle, crawl, and walk. Their bodies are programmed to move: it is how they explore and learn! So, we encourage it however we can, with tunnels, pull-up bars, and a variety of textures on the floor to feel and discover.
You'll also notice a difference in the way we interact with your baby. We understand the importance of early language exposure to their linguistic development, so we are always talking and singing with your little ones. When they babble, we respond! This helps them develop the natural pattern of language and conversation. We also talk to your baby about what is happening to them. Montessori believed in the dignity of the child, which is why we are always gentle and give verbal cues when we are going to change their diaper or bathe them.
What would a day in the life of my baby look like in the nido?
Routines provide infants with security. A day in the nido is structured but considerate of each child's individual needs and development. Throughout the day there is time for discovery in the garden, manipulative play, napping, Montessori moments, stories and books, rhymes and song, and more. Routine care includes diaper changing and bathing. And, of course, lots of milk and food! We work with parents to introduce new flavors and textures at the appropriate time for each child. All of our food is fresh and healthy, with no added salt, sugar or flavorings. This structured, but individualized care allows each child to develop at their own pace and feel loved and secure in the environment.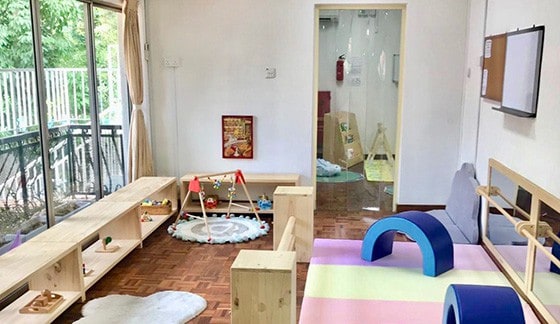 House on the Hill Montessori Nido is different from other infant care centres in Singapore. It was designed down to the last detail with your child's development in mind. Rooted in Montessori principles the environment is warm and nurturing, and it encourages exploration and learning at each stage of your child's development.
Meet our principal, tour our campus and understand the benefits of starting Montessori early!